Instagram Spots in Palm Springs
I visited Palm Springs this past April for the first time ever and I've already decided that it will not be my last time! There is so much to see and do! Palm Springs really is so unique and charming, AND full of amazing Instagram photo spots. I am sharing the best (in my opinion) Instagram photo locations in and around Palm Springs in this blog post!
There are tons of windmills in Palm Springs, you will see a huge sea of them when you get off at the Palm Springs exit. These photos were actually taken on the road next to the highway. Windmill tours are available but I don't think they are necessary as we easily drove right to an area full of windmills and had no problem getting in or out + taking LOTS of photos. I personally think the best time to take photos here is sunrise or sunset.
We took these photos on W. Garnet Ave.
The most colorful hotel ever!! So many options for that perfect instagram photo. The restaurant El Jefe here is so delicious as well. FYI, this hotel is a party hotel so if that's not your jam I wouldn't recommend staying here but still highly recommend visiting while you are in Palm Springs, it's a MUST!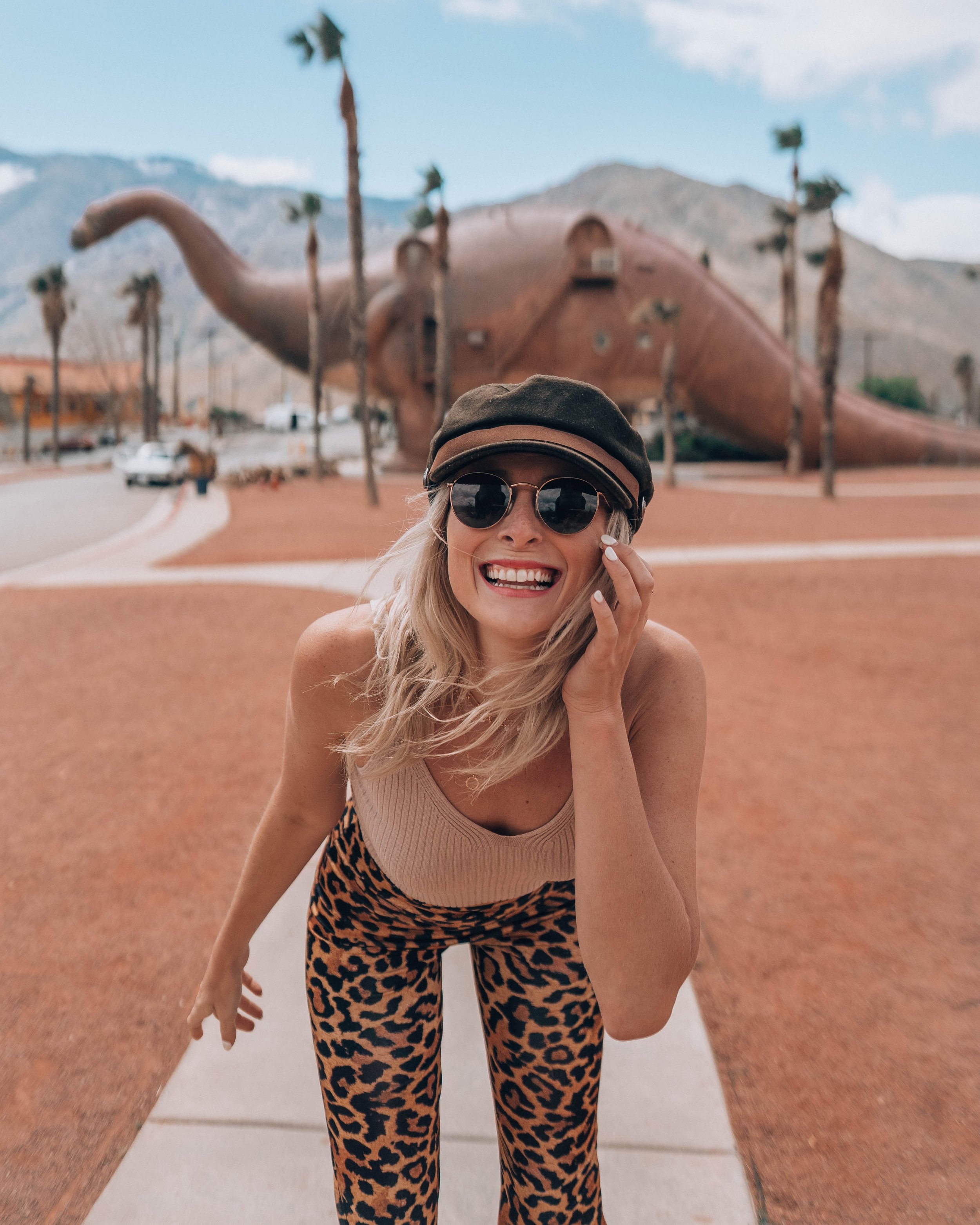 Before visiting Palm Springs I had never heard of the Cabazon dinosaurs, despite the attraction being pretty famous on Instagram. With that being said, this is a stop that I highly recommend! It's right off the highway so very easy to get to. It's free to get in and take photos here. Gotta love the Jurassic Park vibes :-)
The address: 50770 Seminole Dr, Cabazon, CA 92230
Yes, THE famous pink door in Palm Springs.This might be the most popular IG spot in Palm Springs but there are lots of other colored doors in this neighborhood that are gorgeous as well, pink is just my color!
This house does have a sign up saying no photography so I would advise you to respect the owners and only take photos from the sidewalk, not on their property.
The address: 1100 E Sierra Way, Palm Springs, CA 92264
A man-made mountain covered in half a million gallons of latex paint, definitely a one-of-a-kind sight 28 years in the making! Salvation Mountain is about an hour and a half outside of Palm Springs, the best way to get there would be by car, we rented a car during our California trip. Salvation Mountain was created by the late Leonard Knight, several religious words + sayings and messages of love cover the mountain. In addition to that, there are so many beautiful and vibrant colorful scenes that are literally picture perfect for photos.
The address: 603 Beal Rd Niland, CA 92257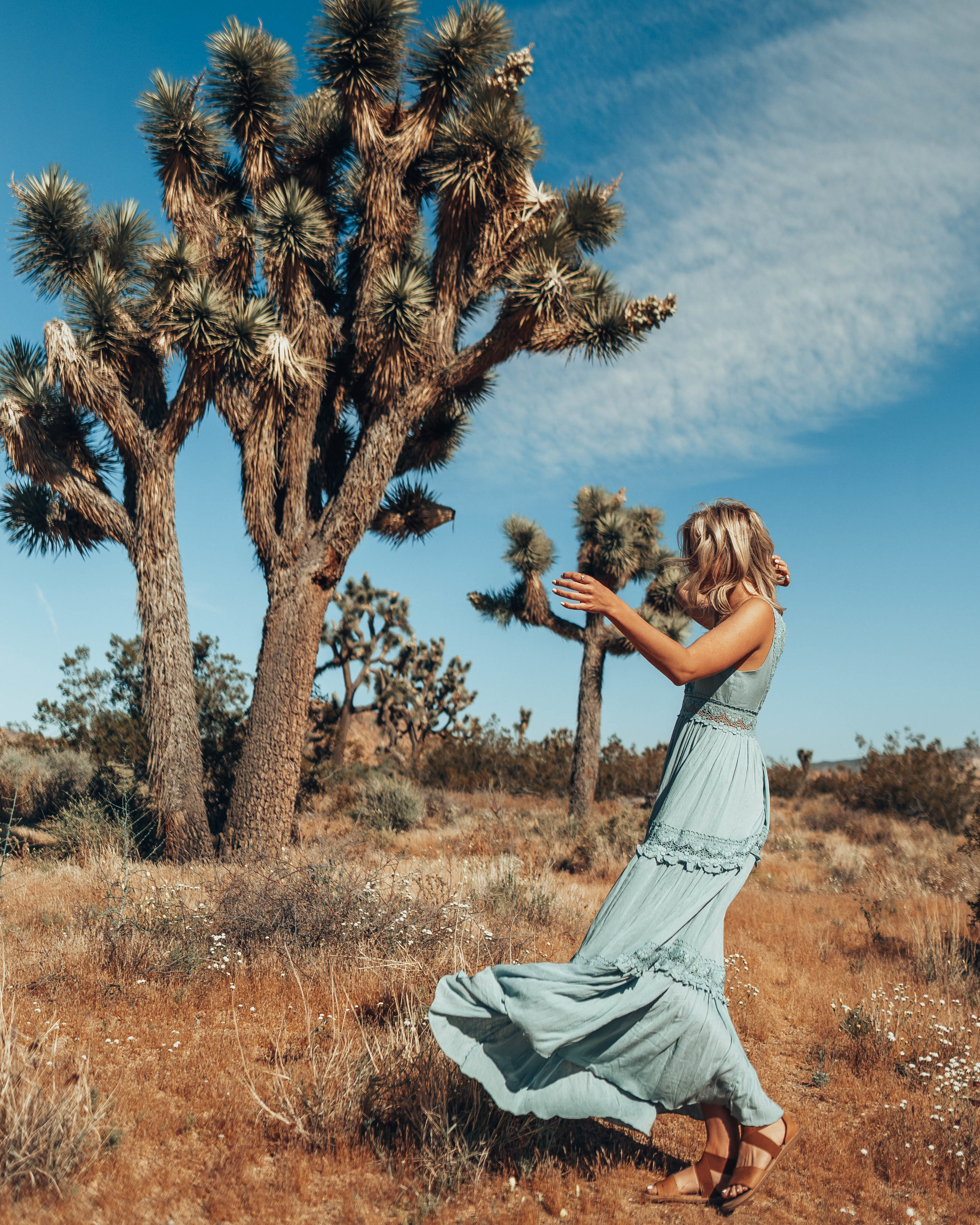 Joshua Tree National Park
There are SO many things to see & do here, + some seriously EPIC photo locations. The park itself is huge! We didn't plan our day trip here very well from Palm Springs (we were exhausted after our 10 day California road trip) and I would highly recommend you learn from our mistakes because we definitely missed out on some amazing spots at Joshua Tree. However, literally every inch of this park is absolutely unreal and no matter what, you will find a gorgeous spot to take photos.
And lastly, here are a few more gorgeous locations in Palm Springs that we did not make it to, (we were only there 2 and a half days) if we had more time, we would've hit up these locations as well.
Parker Palm Springs Hotel

Hotel California Sign

Moorten Botanical Graden

The Ace Hotel and Swim Club

Palm Canyon Drive